Fuel tank truck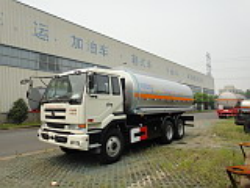 Model: HZZ5255GJY
Brand Name: CHINA JINGGONG
Function: Transport the Diesel and Gas
Materials: Carbon steel
Type: Diesel engine
Chassis Brand: UD Nissan
Tank capacity: 22500 Liters
FOB Shanghai or Ningbo: USD87000
Payment Terms : L/C,T/T
Detalhes do Produto

The Refueling Tank Truck Series is normally transport the gasoline, diesel, kerosene etc. and some other liquid fuel materials which do not corrode the oil pump and fiscal ECR. As a transportation product, it register full of functions such as: oil transportation, fuel oil filling system, fixed-container refueling system, and also can be used as a mobile pump.
It takes more advantages from other similar special truck, and also using the advanced technology to take the production process strictly. The Refueling Tank Truck Series classified as general refueling vehicles (with fuel oil filling system) and fisal tank vehicles, widely usd in oil station and some transportation companies.
This model results the equipment with few positive points as: good performance, good structure, also operates simply.
A. Chassis:
| | |
| --- | --- |
| Name | Standard Configuration |
| ♦ Chassis model: | DND5241GJBCWB452K |
| ♦ Drive type: | 6×4 |
| ♦ Cab type: | Forward control over engine, all-steel-welded construction, power tilting cab; spring suspensions with hydraulic shock absorbers. The color is white. |
| ♦Air condition: | Yes |
| ♦ Engine model: | PF6(Electronic control system) |
| ♦ Engine power:(kw) | 235(320HP) |
| ♦ Emission standard: | Euro2 |
| ♦ Fuel tank: | 200L |
| ♦ Transmission gear: | MTS60A |
| ♦ Front axle: | "I" section beam, reverse Elliot, leaf spring, hydraulic telescopic type absorbers on front axle, Max. front axle load is 6000kg. |
| ♦ Rear axle: | Fully floating, pressed steel banjo type housing, trunnion-mounted semielliptic leaf springs with torque rods, hydraulic telescopic type absorbers on rear axle, final reduction ration is 6.833, Max. total rear axle load is 18000kg. |
| ♦ Tyre: | 11.00-20 |
| ♦ Clutch: | ¢430mm |
| ♦ ABS System: | Nil. |
| ♦ Wheelbase: | 3650+1300 |
| ♦ Outer dimension:(mm) | 8930×2490×3825 |
| ♦ Total mass:(kg) | 24000 |
| ♦ Curb mass:(kg) | 11905 |
| ♦ Maximum Speed:(km/h) | 90 |
B. Tank:
| | |
| --- | --- |
| Name | Standard Configuration |
| ♦ Material: | Carbon steel(Q345) |
| ♦ Shell Body | 5 mm nominal thickness |
| ♦ Head | 6 mm nominal thickness |
| ♦ Baffles | 3mm nominal thick, wave shape, four pieces with Ø 500mm service port |
| ♦Tank shape | Ellipse |
| ♦Capacity | Full capacity 22500L 容积22500L |
| ♦Compartment | No |
| ♦Shell Finish | Shot blasted with 1 antirust, 1 base coat and 1 finishing coat, the color of tank is according to customer requirement. |
| ♦Testing Pressure | 36kPa, Water pressure test |
C. Tank Fittings:
| | |
| --- | --- |
| Name | Standard Configuration |
| ♦ Top inlet port | 2pieces |
| ♦ Manhole Cover | Aluminium alloy, 20" self-latching manhole cover, with air-van. |
| ♦ Outlet port: | One pneumatic sea valve which at the front of tank, the size of outlet port is 3 inches, fix all connector. |
| ♦ Pipe box: | It made of PVC material, round shape which on the both sides of tank, one plastic pipe (5m) |
| ♦ Anti – Static System: | Static electricity plate , copper plate and earth cable reel |
D. Tank Accessories:
| | |
| --- | --- |
| Name | Standard Configuration |
| ♦ Ladder: | Stainless Steel ladder fixed at rear of tank |
| ♦ Walkway Platform: | It fixed on the top of tank with anti – skid surface treatment. |
| ♦ Handrail: | No |
| ♦ Fire Extinguisher Housing: | 2 units, suitable for 4 kg's fire extinguisher |
| ♦ Pump Device | Yes |
| ♦ Flow meter | Yes |
| ♦ Tool box | Small box |
Produtos relacionados