Bulk cement Truck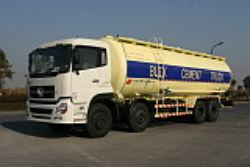 Model: HZZ5312GSN
Brand Name: CHINA JINGGONG
Function: Transport the bulk cement
Materials: Q235
Type: Heavy duty
Chassis Brand: DONGFENG
Tank Volume: 30000 Cubic meters
FOB Shanghai or Ningbo: USD65000
Produced Year: 20/11/2010
Stock Product: Underselling
Stock Quantity: 1
Payment Terms : L/C,T/T
Detalhes do Produto

Bulk Powder Goods Tank Truck Series is one of the transport vehicles, normally transport: cement coal, talcum powder, flour and other powders. Mechanized loading, transporting, unloading, storage with integration. Meanwhile, the level of transportation efficiency would be promoted, and transportation cost could be reduced. The vehicle consists of tank-body, laden chassis (semi-trailers), air compressor and charging/discharging system.
Bulk cement Truck
Type: HZZ5312GSN
Production Parameter(mm):
1.Overall Length: 11850
2.Overall width: 2495
3.Overall Height: 3740
4.Wheelbase: 1950+4250+1300
Structural Weight Ratting (Kg):
1. Tare Weight: 15930
2. Payload: 15000
3. G.V.W.: 31000
Running Gear:
1. Chassis model: DFL1311A4(DONGFENG Chassis)
2. Brake system: Dual line pneumatic brake system
3. Tire:11.00R20
Electrical System:
1. Voltage: 24 volt
2. Light: Front mark lamp; Sidelight; Rear lamp;Turn signal lamp
Tank Specification:Tank Volume is 30000 Cubic meters.
Tank Shell Material: Q235, 5mm thickness
Shape of tank:Round
Surface treatment: Outer surface paint.
Test pressure designed:2 kg
The color of the Vehicle: Chassis: white/Tank: maize-yellow/Side Protection: white and red
Extinguisher: two pieces
Toolbox:one piece
Fender:steel
Produtos relacionados